In The Office
(We're here all year round… yes, even in the summer!)
Ally Thornton
Commissioning & Production Coordinator

A graduate of University of Leeds specialising in film and television production, Ally first joined us as an intern in 2015 and fast became the beating heart of Trinity Vision.
In the past she has worked with companies such as True North Productions, Boujie Media and Rock School UK, and in 2014 filmed a music festival in London for Elstree Film Design.
Sheldon Ridley
Production Assistant

V.I.T.M
(Very Important Team Members)
Prof. Graham Roberts
CEO of Trinity Vision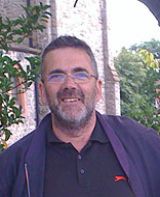 Graham has taught in Universities since 1991 (including spells as Director of both the ICS, Leeds and the Liverpool Screen School).
He is also a film producer, director and CEO/MD of ENDGAME PICTURES (www.endgamepictures.co.uk ) and CEO of Trinity Vision.
Ricardo Barker
Director Mentor and Industry Professional

Ricardo is the Director Mentor for Trinity Vision. He has worked in television and as an independent media professional. He has lectured at Leeds Trinity University and Leeds Metropolitan University, and worked with 3FootStudios and Mezzo Group among others.
Tom Pollard
PhD Student & Graduate Teaching Assistant

Tom has worked with Trinity Vision on innumerable projects, and has experience working with the BBC, Rejuvenate Productions, and as a filmmaker and camera operative.
Tom graduated from Leeds Trinity University with a first class honours degree and is currently earning his PhD with the International Research Centre for Interactive Storytelling.